The Liam-Karma Relationship also known as Larma is the romantic and platonic pairing between Liam Booker and Karma Ashcroft.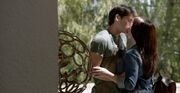 Relationship
Liam and Karma like each other, but Liam doesn't want to be with someone who already has a significant other.
Moments
Liam and Karma first meet each other.
Ad blocker interference detected!
Wikia is a free-to-use site that makes money from advertising. We have a modified experience for viewers using ad blockers

Wikia is not accessible if you've made further modifications. Remove the custom ad blocker rule(s) and the page will load as expected.